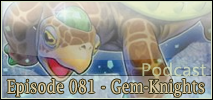 Click to Listen Online
Right Click/Save As to Download
Kyle, Matt, and Justen return for the Gem-Knight podcast.
By request of Sr. Adhdlad I'll try to make a decklist corresponding to each episode.
This one is the Gem-Knight deck list that has proved the most consistent and powerful for my[Kyle's] testing:
Monsters:(26)
3 Gem-Knight Garnet
3 Gem-Knight Amber
3 Gem-Knight Obsidian
3 Gem Armadillo
2 Gem Turtle
2 Card Trooper
3 Volcanic Shell
3 Thunder Dragon
2 Effect Veiler
2 Tragoedia
1 Gorz, the Emissary of Darkness
Spells:(14)
3 Gem-Knight Fusion
3 Mystical Space Typhoon
2 Night Beam
2 Pot of Duality
1 Heavy Storm
1 Dark Hole
1 Pot of Avarice
Extra Deck: (15)
3 Gem-Knight Citrine
2 Gem-Knight Prismaura
2 Gem-Knight Seraphi
2 Gem-Knight Zirconia
2 Daigusto Emeral
1 Gem-Knight Pearl
2 Number 11: Big Eye
1 Adreus Keeper of Armageddon
Side Note: Adreus is because of Tragodia + Thunder Dragon to take an opponent's monster or Seraphi + Tragoedia or Seraphi plus a normal summoned Thunder Dragon.