Recently you may have seen a similar article by Matt saying his favorite cards. We had a request that me and Justen do the same, so I thought, sure why not. So now here we are, my top 10 favorite cards, in no particular order: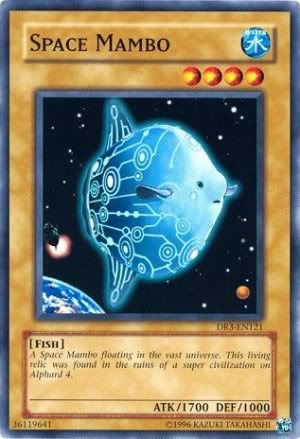 I figured I should get this out of the way as soon as possible, my favorite Normal Monster. There's plenty of other Normal Monsters that I just love, like Neo the Magic Swordsman or maybe even Terrorking Salmon, but none is more favored to me than Space Mambo. Back in the beginning of my dueling days, when I was fairly bad at the game and had no cards, in fact I borrowed all of them from other people, I made a deck based around A Legendary Ocean. It was the first deck I ever went to a local event with (back at the heyday of TeleDAD, safe to say I got trashed) and I don't want to say it was amazing but it was pretty good. One of the cards I ran in that deck was Space Mambo, I only ran because I could never find a 3rd 7 Colored Fish, and whenever I drew it I was happy because it looks so freakin' cool and it's really fun to make weird chants with his name.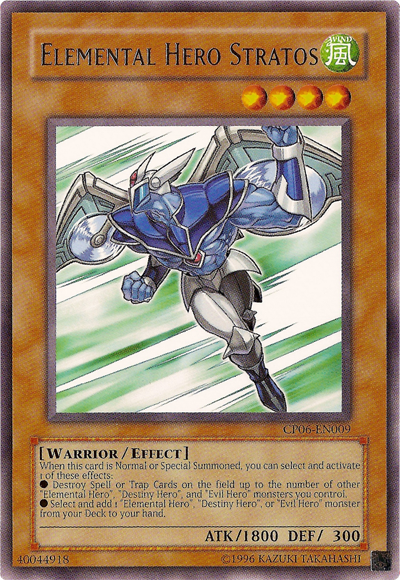 Moving on to a card I like for its function is Elemental HERO Stratos. I just really love making ridiculous amounts of advantage with this card. I love how easy he gets his effect off, not many cards can boast about getting an effect Normal or Special Summon, especially since it works in tandem with a lot of my favorite cards due to this. On top of that his allows for extreme versatility, which is what I'm all about. He can be a valuable tool in almost any situation by getting the specific card you need as well as be a beater to remove threats or even destroy spells and traps. It's a card that allows your destiny to be in your own hands and not up to the luck of the draw. Stratos also looks really cool too.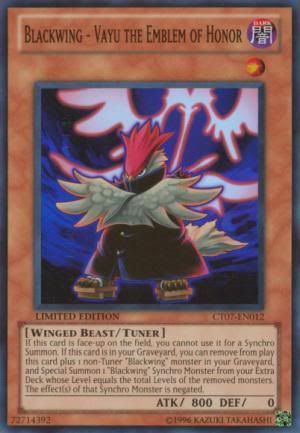 Next on the list is Blackwing – Vayu the Emblem of Honor. I'll admit, at first I really hated this card. It was a part of that one really good deck that all the best players played, and in general I hate cards in those decks because it's unoriginal to be using them because everyone is doing it, and that's not what I'm about. But, after the dust settled though everyone pretty much shafted Blackwings altogether, a deck I feel could still be competitive today,(Vayu Turbo and Standard decks alike) to move on to bigger and better things. Then it became my turn and I tried it out because I just liked the way the card worked. The idea of specifically building up plays in your graveyard and generating monsters literally from nothing is really cool, a mechanic only seen in this card. Vayu Turbo is possibly one of the funnest decks to play with because of its unique play style.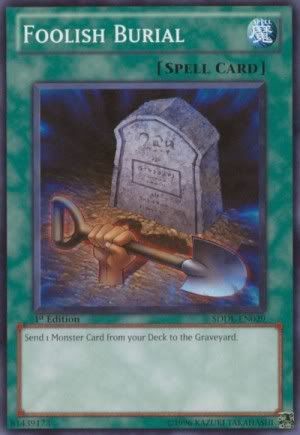 For this next card it came to mind that most people's favorite cards tend to be monsters, no love for those spells and traps. Then I thought what could possibly be my favorite Spell Card and after much deliberation I came to Foolish Burial.  Whenever I run this card I'm always happy to draw it. There's almost no reason to not want this card in your hand. For a card that does so little it gives you so much power and so many different plays, which I as I said earlier I love. This card very evenly rounds out a lot of mini deck engines building consistency. Foolish Burial to me is also an example of a very original card, similar to Vayu, which is one of the only cards to do what it does and it does it in the most basic way possible.
It would make sense to follow this up with my favorite Trap Card, and that would be Call of the Haunted. If you haven't noticed, like I have, versatility is a theme for all my favorite cards. Call of the Haunted is no exception. Offense, defense, disruption, mass advantage, mind games,  it pretty much can do it all. I could probably write a book about all the things to do with this card, but I wont.
Dark End Dragon pretty much exemplifies my play style. I never want to attack over monsters and I want my effects to go off no matter what. If I where to have a boss monster, this would be it. It deals with almost any threat in the game, there's nothing I can think of off the top of my head that really threatens this thing. He also has the perfect attack points, 2600 clocks just above anything reasonable and anything it can't attack over it can just use his effect on. Also after his effect he only goes down to 2100, another attack threshold. It's also very rare that cards send your opponents cards to the Graveyard, which makes this card so strong because there's so few cards that get effects when sent to the graveyard and so few cards that can stop his effect. Also, I hate face-down monsters, and he deals with them pretty easily.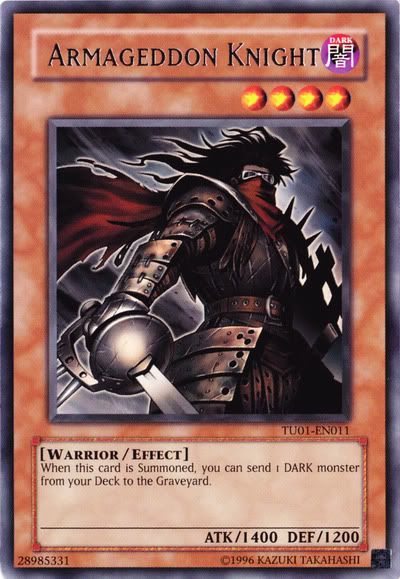 I'm pretty sure you guys already knew I liked Armageddon Knight. I've already made quite a few articles about him already. The reason I love him is because he's a one card toolbox. He gives innumerable options to you just by being in your hand, which once again is exactly the kind of card I love. Also, he looks so cool; I wish I had a cape draped over my mouth like that, I'd be the coolest kid on the block.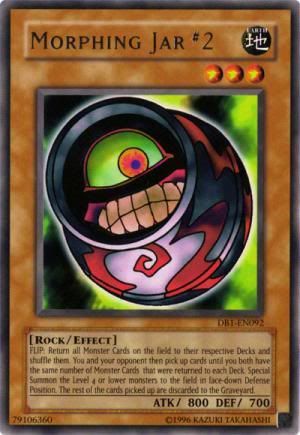 The trolliest of the troll, that is Morphing Jar #2. I don't think there's any card I would hate seeing gets its effect off more than this card. This card is just a troll, look at him and his troll face giggling at you, he wants to piss you off. You can't stop him once he goes off, his effect pretty much just nukes your field. He's apart of a set of cards I like to call "the cards that can deal with anything". There's little to no problems your opponent might present you with that this card doesn't so easily remedy. In this same class are some other cards I thought of mentioning in its place like Creature Swap, Flip Flop Frog or Neo Spacian Grand Mole,  but Morphing Jar #2 pretty much takes the cake.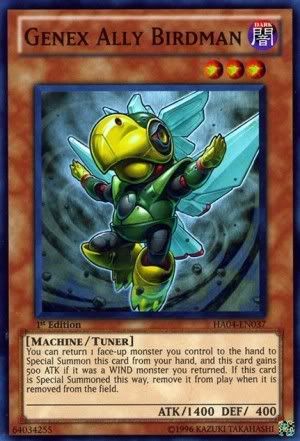 The logical progression of my favorite cards, will inevitably lead me to Genex Ally Birdman. All this card really does is further increase the multitude of plays you may already have within already versatile cards. When making a play the number of options you have usually explodes through the roof with just one Birdman in hand. Also, its good to note he has a super cool picture, some weirdly cool looking bird robot with probably the coolest stance ever ascending into the heavens.
And last I'll end with a card that I just like just 'cause. Ever since I was a very young lad and saw the Disney movie Aladdin, I really wanted that golden flying scarab that Jafar uses in that opening scene. This card was pretty much the closest thing to that. I saw it and my inner child welled up and I wanted it. It probably has my favorite card art of any card and it's effect is just straight up fun. I pretty much am always considering this card to randomly be in decks. Thoughts like "maybe I should tech 1" always come to mind.